Gary Tilyard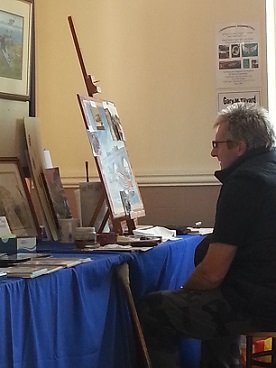 Gary Tilyard - Painter and Signwriter

www.tilyardart.co.uk
About Gary
Gary Tilyard was born 1958 in Gornal Wood at the heart of the Black Country. He began a full-time signwriting career in 1985, and his commercial work has gained respect not least in the specialised field of canal and vintage transport.
Gary has also become a well-known and respected local artist, working mainly in oils with underpainting in acrylics. His natural talent has been commissioned regularly in the diverse field of animal portraiture but it is for his series of canalscapes and vintage transport that he is, perhaps, most recognised, and more recently aviation art.
A strong sense of his 'roots' informs his work. A desire to capture the fading grandeur of the 'old' Black Country was fulfilled in the release of his first limited edition print, 'Inching Ahead' a successful bringing together of his interests in steam and canal transport. Having received both local and national acclaim, he released a second limited edition print, 'The Old Rivals.'
Over the years his work has proved popular with regular patrons of the Black Country Museum and the National Waterways Museum in Gloucester where he has taken part in organised painting exhibitions. Gary is equally at home in the more intimate settings of steam and canal rallies.
Gary M Tilyard - Artist & Signwriter